Sustainability
In the manufacturing landscape, sustainability is viewed as a practice of reducing the damage, and nothing else. This system negligibly reduces some negative aspects but never solves issues like water wastage, harmful discharge, resource overuse, energy wastage, and ecological exploitation.
VFL is very serious about developing a greener manufacturing ecosystem, and to do so, pioneering steps are being taken not just to lead from the front but also to motivate other manufacturing units to take up sustainability as a noble act.
At VFL, sustainability is viewed as a willful responsibility. It is about making the most out of the resources available, recycling what's left behind and giving back to the society and nature in the highest possible equanimity. At VFL, sustainability is a process that ranges from fibre to fabric and stretches beyond the ambit of our own facility. Our products are developed in a way that they directly or indirectly help in greater sustainability and eventually help in creating a better world.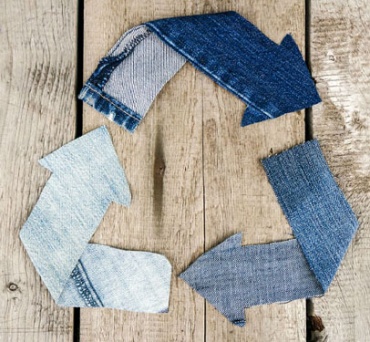 We employ high-end technology to ensure that every process at our manufacturing unit is an eco-friendly process that reduces chemical usage and chemical discharge to eventually reduce pollutant expulsion.
Product Development:
How a product has been developed plays a very significant role in the sustainability process, especially after the fabric leaves the manufacturing facility. At VFL, we believe that the contribution to sustainability must happen at all stages, so the products that are developed by us, are 'sustainability-ready'!
Our Product Development team is continuously working towards the development of sustainable denim fabrics that are breathable and have less water footprint. Here are some salient features of our denim products-
– Our products need less water to get manufactured.
– Our denim products have less water retention so they can be easily dried and reduces the carbon footprint.
– It's a breathable fabric so lesser washes are required.
– Our products are made from easily stretchable fabrics so lesser washes are required.
VFL identifies 6 key points that encompass the sustainability process, gratifying which a greener, nature-friendly and non harmful manufacturing ecosystem can be ensured-
1. ZERO DISCHARGE / WATER MANAGEMENT
2. WASTE MANAGEMENT
3. ENERGY CONSERVATION AND GENERATION
4. GREEN / ECOLOGY PRESERVATION
5. CHEMICAL
6. CERTIFICATION
1. Zero Discharge/ Water recycling and reusing
We have employed the right systems in place and have committed ourselves to waste 0% water. Our facility is a zero discharge plant where the entire water supply is reused through counterflow. The water used for the rinsing of yarns before and after dyeing is the same water recycled from the finishing department. We are also very firm on treating the used water. The water used for processing fabrics is recycled through ETP (effluent treatment plant) and 3-stage R.O. Our process employs mechanized methods and laser technology as an alternative to chemical methods, thus reducing the chemical discharge to a great limit.
2. Waste management:
Wastage of resources is exploitation of resources. At VFL exploitation is not at all acceptable. We look at the raw materials at our disposal as nature's gift and feel a strong sense of responsibility to reduce material wastage. After the denim fabric is produced, the leftover material like cotton fiber is utilized as a raw material to produce denim bags, tablecloths, mats, covers, etc.
3. Energy conservation and generation:
VFL earnestly believes that energy mustn't just be conserved but must also be regenerated. To make that happen, LEDs are used wherever possible. Also, to generate energy for the facility, a captive power plant has been installed. An in-house solar power plant is being considered to procure the most natural and inexhaustible form of energy.
4. Green / Ecology preservation
Vishal Fabrics Limited's sustainability efforts are not about limiting the exploitation of green spaces. But about going one step further and encourage the development of green spaces. VFL has created a massive green cover at the plant and also at the industrial park in an attempt to preserve, enhance and encourage green spaces.
5. Chemical:
VFL has put in tremendous efforts to change the way production facilities function. Eco-friendly dyes are used as alternatives to chemical dyes. Pre-reduced indigo (liquid) is used as an alternative for powdered indigo. Chemicals and dyes used are certified as safe for environment and ecology. To reduce discharge at a very root level, indigo used for dyeing is stored and reused.
VFL ensures that no environmentally hazardous chemicals are discharged from the plant.
6. Certifications
BCI
The Better Cotton Initiative exists to make global cotton production better for the people who produce it, better for the environment that grows it and better for the sector's future, by developing Better Cotton as a sustainable mainstream commodity.
The Better Cotton Initiative promotes higher standards of cotton farming, processing and manufacturing practices across 21 countries of the planet. VFL is a proud member of the BCI and contributes to an ecosystem where sustainably produced cotton enters the global supply chain.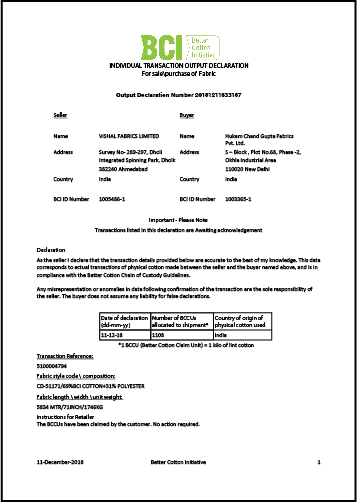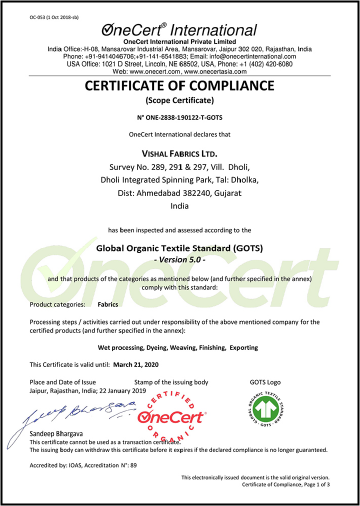 GOTS
The Global Organic Textile Standard (GOTS) is recognized as the world's leading processing standard for textiles made from organic fibers. It defines high- level environmental criteria along the entire organic textiles supply chain and requires compliances with the social criterion as well. Only textile products that contain a minimum of 70% organic fibers can become GOTS certified. All chemical inputs such as dyestuff and auxiliaries used must meet certain environmental and toxicological criteria. The choice of accessories is limited in accordance with ecological aspects as well. A functional wastewater treatment plant is mandatory for any wet-processing unit involved and all processors must comply with social criteria.
The Global Organic Textile Standard is set by the leading standard setters to ensure that the organic status of textiles is top notch. This makes sure that the fabric is taken care of throughout the process of acquiring, processing, manufacturing, and packaging of the material. It is a benchmark that assures the customers that the best, and only the best has been provided to them.
Oeko tex
Certifying that raw, semi-finished and finished products (fabrics) at all the processing levels are free from harmful chemicals and are safe for human beings and the ecology.
Oeko-Tex certification is an assurance of how well the fabric has been processed, including manufacturing aspects like dyes and finishes. Oeko-Tex certified textiles and fabrics are free from harmful chemicals and humans can use it without any danger.
Vishal Fabrics Limited has attained the Oeko-Tex Standard certification because the fabric we produce has been tested & verified to be free from more than 100 harmful substances. We update this certification annually to ensure that our customers get nothing but the safest and the finest.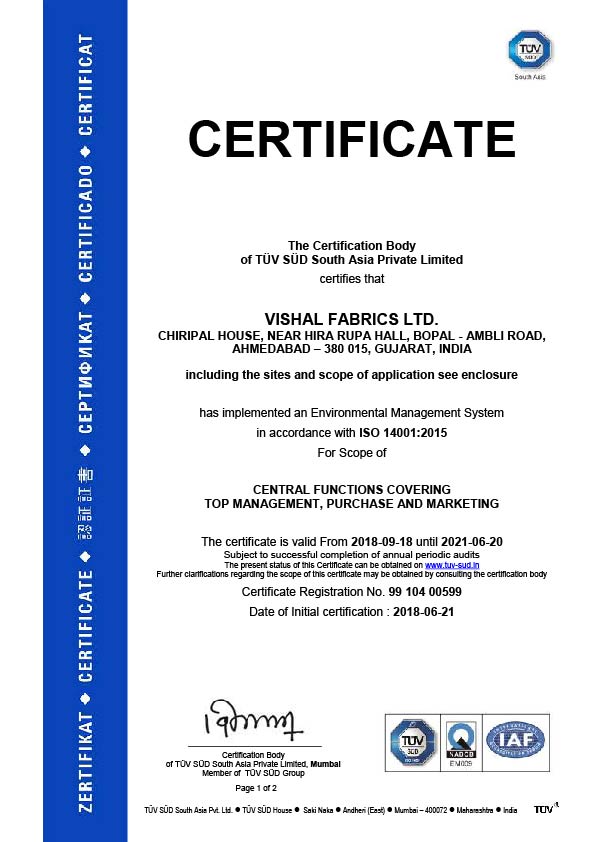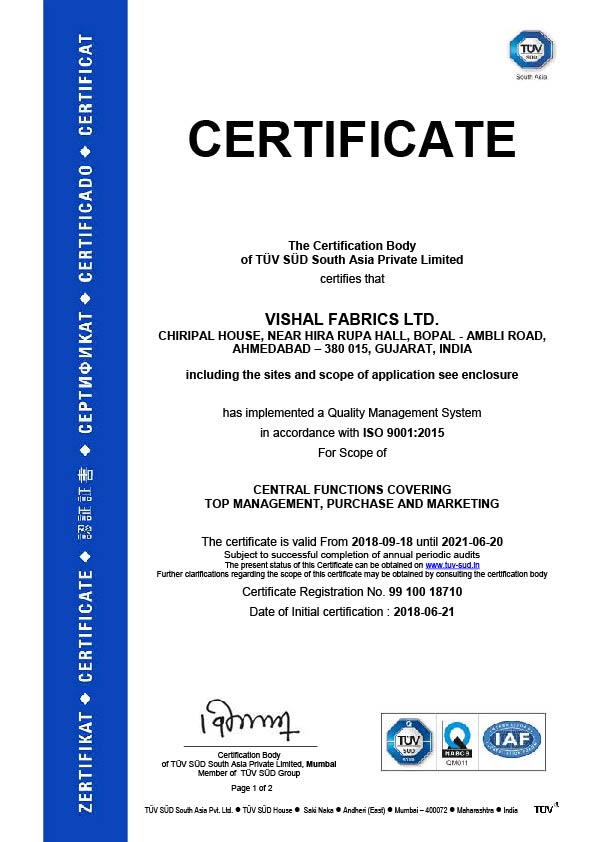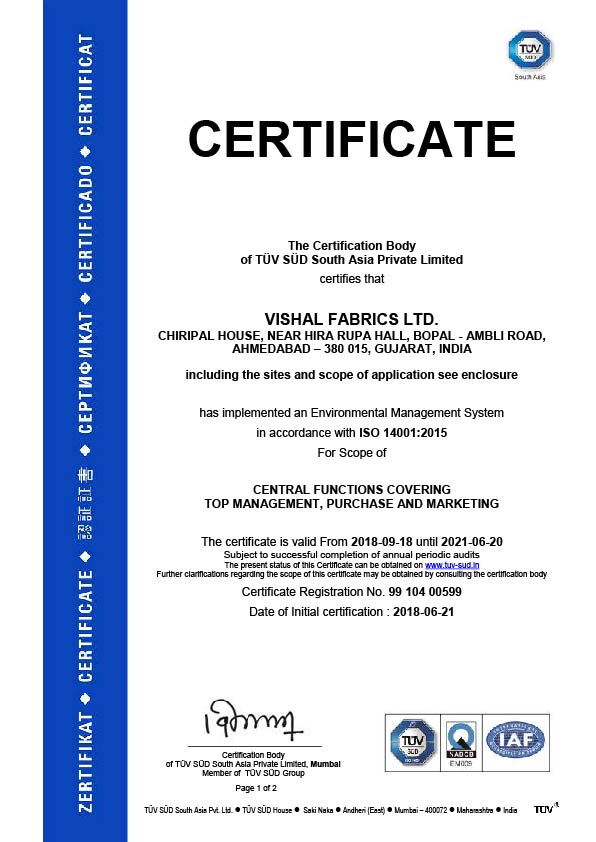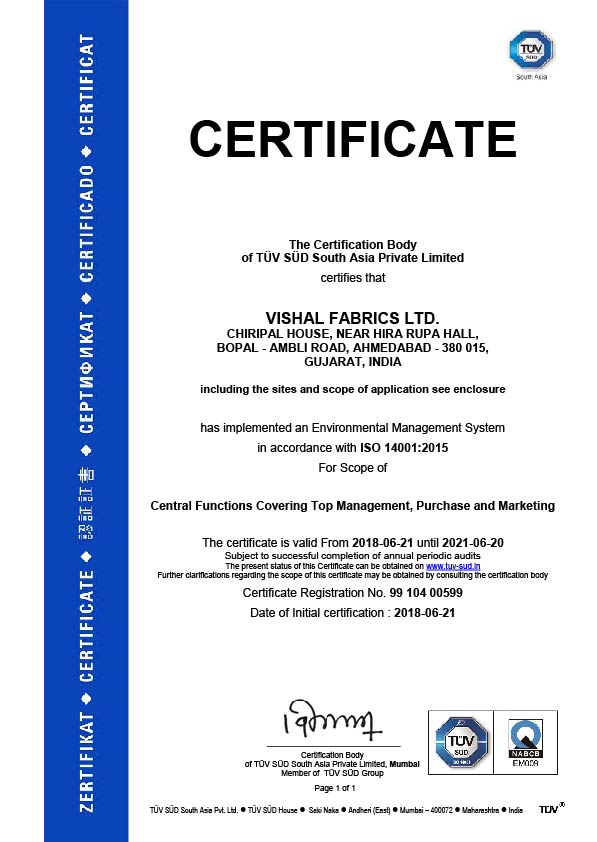 website development company in ahmedabad
web design company in ahmedabad
web design company in ahmedabad
ppc services ahmedabad